Newsletter Information

Newsletter Archives


Healing Products & Services For Purchase

Register For Workshops and Certifications

Directions

Holistic Integrative Breathing CD's and Online Store

Wisdom Of The Earth Medicinal Therapeutic Grade Essential Oils

DVD's Coming Soon!
Holistic Community Circle Links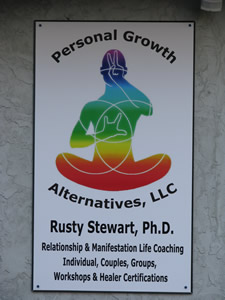 Articles
Wake Up, Life's Not A Dress Rehearsal!
Lighten Up, Have Fun, Laugh, And Don't Take Life So Seriously!
By Rusty Stewart, Ph.D..

The paradox of human life: multi-tasking until we find stillness, focus, letting go, and peace. The waking up process is about finding what wakes us up to our truth. This can be a very chaotic time as we experiment and experience many different ways of growth and finding ourselves. The hardest part is taming the ego and releasing our identification of the ego as who we are. The key part of this process is waking up to the realization that life is not a dress rehearsal! It's kind of like, "shit or get off the pot!" This is an amusing quote as there will be a lot of releasing during this waking-up period. At this point you may be asking yourself, so where is the fun?

It is in waking up to our truth and purpose that we find the humor in the human condition. We also experience the illusions of our past conditioning and belief systems. For many of us we wake-up to the Goddesses/Gods that we are. That being the case we might as well have fun while we're here and experience everything we want to experience. It is during this realization that we start to not take life so seriously. We begin to find that letting go and being present produces results with less effort, less time, more focus, and more enjoyment. Does this mean you can lighten up, have fun, and laugh while you manifest your dreams and desires? Yes!!!

Remember as I communicate many of these healthy vacations and activities that it is not the activities themselves that produce fun, but your mindset and perception that open the door to Love and joy. So hang on as we explore some of the ways we can enjoy being in our bliss! First I would like to recommend a book called "Vacations That Can Change Your Life: Adventures, Retreats & Workshops For The Mind, Body And Spirit" by Ellen Lederman. Hopefully there is a new edition as the one I have is 1998. This is a good starting point. Other vacation and travel resources are cruises that are designed for spiritual and personal growth themes. I recommend the book "1,000 Places To See Before You Die" by Patricia Schultz, and the 30th Anniversary Travel Special of the magazine Outside "The World's Greatest Trips. Ever." Any trip that you plan can be a spiritual and growth experience. It is your intent that makes all the difference!

Here are some other more local community ways of having fun while expanding your horizons. Experience impromptu dance and movement with live music every Friday night at 8pm at Group Motion in West Philly, www.groupmotion.org. Sign-up for an excellent personal growth experience called the Essential Experience Workshop and be a part of a diverse, active, and fun community focused on support and growth on the Main Line. The next workshop is August 2-5, 2007, www.eeorg.net. If you would like to experience a spiritual sweatlodge (a Native American ritual), you can check out two locations in the Delaware Valley, www.birdsongpeacechamber.com, and www.malvernsweatlodge.com. Another pearl that many of you do not know about is the Center For Human Integration in Foxchase, Philadelphia, PA, www.chi4wellness.org, the Greenshire Arts Consortium in Quakertown, PA, www.greenshirearts.org, and a new kid on the block called Transformations in Voorhees, NJ, www.readytotransform.com. These are just a sampling of many community organizations and activities in the Philadelphia area. If you would like more information about what is available in the Philadelphia area you can contact me at rusty@rustystewartphd.com.

If you want to venture outside of the Philly area, here are some other fun regional resources for spiritual and personal growth. I'm partial to the Omega Institute For Holistic Studies in Rhinebeck, NY. I have taken 17 workshops over the last 11 years at Omega and always leave satisfied, connected, and refreshed. I even make new friends from the Philadelphia area every time I visit Omega, www.eomega.org. Other wonderful conferences, workshops, and retreat centers include: Radiating Soul Wisdom at the 28th Annual Life Spectrums Conference/Retreat at Pocono Manor, PA www.lifespectrums.org, two fantastic Yoga Retreat centers; the Himalyan Institute in Honesdale, PA, www.himalayaninstitute.org, and Kripalu in Stockbridge, MA, www.kripalu.org, Four Quarters: An Interfaith Sanctuary Of Earth Religion in Artemas, PA, www.4qf.org, Shalom Mountain in Livingston Manor, NY, www.shalommountain.com, Healing Tao Retreats at The Dao Mountain Retreat Center at the Jeronimo Center in Walker Valley, NY, www.healingtaoretreats.com, The Option Institute in Sheffield, MA, www.option.org, the Leven Institute Of Movement Therapy in Lenox, MA, www.leveninstitute.com, The Crossings in Austin, TX, www.thecrossingaustin.com, The Living Tao Foundation in Urbana, IL, www.livingtao.org, Astara in Upland, CA, www.astara.org, The Four Winds Society in Park City, Utah, www.thefourwinds.com, a gay men's retreat center called Easton Mountain Retreat Center in Greenwich NY, www.eastonmountain.com, The Rowe Conference Center in Rowe, MA, www.rowecenter.org, and Dance New England Summer Camp in Poland Springs, ME, www.dne.org/camp/2007. Wow, what a list to pick from!

I encourage you to research these organizations and use your intuition when deciding where to go to have fun in your spiritual growth process. I cannot speak from experience for all of the above listed places. This is a compilation of some of the places I have on file. Feel free to find more and follow your bliss! I also invite you to look for events in the back of Yoga Living Magazine and online in my Manifesting Community Listing page at www.personalgrowthalternatives.com. Other local online community event resources are www.communityhealthguide.net, and www.holistichometown.com. Wherever you go remember to lighten up and not take life so seriously, after all, you are all Gods and Goddesses incarnate you know!

Rusty Stewart, Ph.D., Yoga Living, July/August 2007